If you want to be in the know about what's going on at our organization, you've come to the right place.
Diamond on the Prairie Event Video Highlights
The Diamond on the Prairie Event was a SUCCESS! We are so pleased with the support the Events and Performing Arts Center has received thus far.  It's a great start to our Capital Campaign!  If you would like to donate to this project click here. 
Foundation Happenings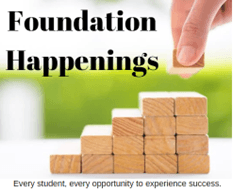 Greetings from the Richland #44 School Foundation!  In partnership with the community, the Richland #44 School Foundation financially supports creative programs that stimulate excellence in the areas of academics, the arts, and extra-curricular activities while enriching and enhancing the education offered by the Richland #44 School District. 
Two projects have been approved for funding to enhance the Richland #44 educational experience.
Knowledge Bowl~ 
A request to support Knowledge Bowl was approved for up to $1,500. Knowledge Bowl is an interdisciplinary academic contest that combines intense competition with the incredible skill of knowledge recall.  Students work cooperatively in teams of four to solve oral and written questions while teams race against each other to be the first to "buzz in" and answer the question correctly. These funds will help with the cost of travel to meets and for materials for practice and to support meets at Richland #44. 
Fresh Fruit and Vegetable Program~
A request was approved for $9,520 to support to the Richland #44 Elementary Fresh Fruit and Vegetable Program for the 2022-23 school year. The Fresh Fruit and Vegetable Program is a Federally assisted program designed to introduce students to a variety of fruits and vegetables and increase awareness and consumption of healthier options. By fueling our students nutritionally, we are giving them a healthier foundation to participate well in school and in extra-curricular activities. When students are fed, they are focused. Focused students are involved students.
Richland Elementary received $9,520 from the Federal program to provide a fresh healthy snack for PreK-6th grade 2-3 days a week.  Match funds from the Foundation will ensure that a healthy snack is provide 5 days a week for the 2022-23 school year.
Mr. Neagbour's ELECTRIFYING Science Class
Mr. Neagbour, the High School science teacher at Richland #44 had all of his students electrified in science class.